High Scoliosis Prevalence in PWS, With 80% of Patients in Study Affected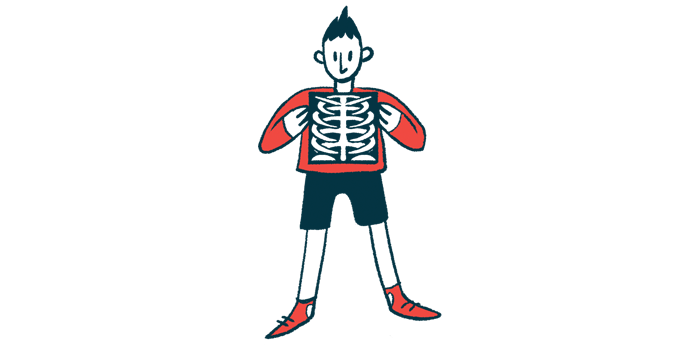 Scoliosis — an abnormal sideways curvature of the spine — has a high prevalence among people with Prader-Willi syndrome (PWS), and becomes increasingly more common with older age, a study highlights.
In fact, more than 80% of the PWS patients in the study, who were followed for more than 30 years, developed an abnormally curved spine.
"Our data indicate that scoliosis is one of the major concerns for PWS patients that increases with age, and therefore suggest the need for regular systematic monitoring of spinal deformity from paediatric age," the researchers wrote.
The study, "High Prevalence of Scoliosis in a Large Cohort of Patients with Prader-Willi Syndrome," was published in the Journal of Clinical Medicine.
Muscle and skeleton abnormalities such as scoliosis are common symptoms of PWS. However, exactly how common remains unclear — reported rates of scoliosis in PWS range from 15% to more than 85%. Moreover, the risk factors for scoliosis remain imperfectly understood.
To learn more, researchers in Italy now assessed the occurrence, or not, of scoliosis in 180 people with Prader-Willi syndrome whose data was recorded in an Italian registry.
Among the patients, 96 were female and 84 were male; their ages ranged from just under 2 to nearly 50 years old. The majority (83%) had been treated with growth hormone therapy (GHT), a common treatment for PWS that can help to normalize growth and development.
"The purpose of the present study was to investigate the characteristics of scoliosis in a large cohort [group] of children and adults with PWS, analysing the role of age, gender, puberty, body mass index (BMI), genotype and GHT on its onset and severity," the researchers wrote. Of note, a person's genotype is his or her genetic profile, which would include specific PWS-causing mutations.
Overall, the researchers found, 83.3% of patients — 150 in all — developed scoliosis over a median follow-up time that spanned more than three decades. The median age at scoliosis diagnosis was 6.3 years, with most being diagnosed before age 20.
The scoliosis was graded as mild in 38.7% of patients, moderate in 28.7%, and severe in 32.6%. The risk of severe scoliosis was generally higher in females than males, and more severe scoliosis tended to be diagnosed at a younger age.
Statistical analyses showed that the risk of scoliosis increased substantially with age, particularly in early life — the cumulative risk of scoliosis by age 15 was nearly double the risk at age 5. Further analyses showed no association between GHT, sex, or genotype and the overall risk of scoliosis.
"Our data confirmed that the cumulative probability of scoliosis in PWS increases with age," the researchers wrote. They noted that this finding may explain the high prevalence in this study —which included mainly adolescents and adults. It also may help explain why studies on the prevalence of scoliosis in PWS have often reported inconsistent rates.
Among the patients with scoliosis, exactly half — 75 individuals — required a corset to help manage the condition. Corsets were started at a median age of 7.5, and worn for a median of five years. Surgery for scoliosis was performed on 17.3% of the patients, a group with a median age of 13.1 years.
The researchers suggested that X-rays may help in the diagnosis of the condition, and may be useful given the high prevalence found.
"This finding underlines the need for early radiological skeletal surveys once a child can sit unassisted along with a thorough clinical examination, as scoliosis may not be well recognised in the presence of obesity and/or hypotonia," the team wrote.
"Regular monitoring for development and/or progression of the spinal deformity is of utmost importance, given the frequent increase that occurs with the increase in age," the scientists concluded.