Physical Activity, Nutrition Recommended for Bone Health in Prader-Willi
Study recommends clinicians assess for osteoporosis, scoliosis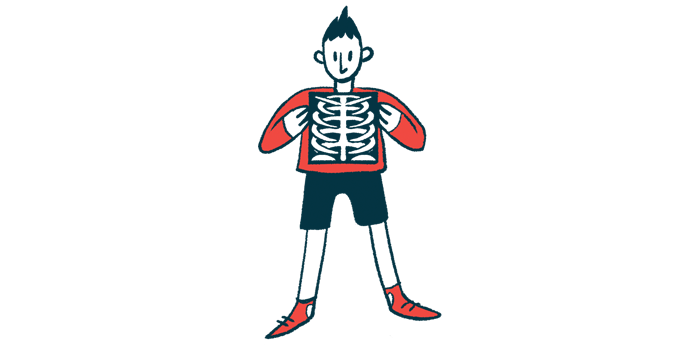 Bone health problems such as osteoporosis and scoliosis are common among people with Prader-Willi syndrome, a new study indicates.
Its researchers offered several recommendations for caring for bone health in people with Prader-Willi, such as optimizing calcium intake, getting enough physical exercise, and regular screenings for hormone imbalances.
The study, "Bone health in adults with Prader-Willi syndrome: clinical recommendations based on a multicenter cohort study," was published in The Journal of Clinical Endocrinology & Metabolism.
Prader-Willi syndrome commonly manifests as low levels of certain hormones and low muscle tone, which can contribute to bone health problems. Patients may be prone to fractures (broken bones) and at increased risk of osteoporosis and osteopenia, conditions where the bone is unusually weak. Sideways curvature of the spine, called scoliosis, also can develop in Prader-Willi.
Osteoporosis, scoliosis common in PWS
An international team of scientists reported outcomes related to bone-related health for 354 people with Prader-Willi from six countries, Australia, the Netherlands, France, Italy, Sweden, and Spain. The researchers also reviewed the scientific literature on bone health in Prader-Willi, comparing their outcomes with prior reports.
The median age of the patients was 31 and 43% were male. Most had scoliosis (80%) and there were no significant association between having scoliosis, osteoporosis, or fractures.
Based on bone density measures at the time their data was collected, 54% of patients had osteopenia, and 14% had osteoporosis. In medical records, 21% of patients had a current or prior diagnosis of osteoporosis. These rates are generally consistent with what has been reported in other studies.
Osteoporosis was significantly more common among male patients. Statistical tests showed hypogonadism (reduced production of sex-related hormones such as testosterone and estrogen) was a significant risk factor for osteoporosis in both the men and women. Other risk factors include reduced physical activity and low dairy intake.
"Modifiable risk factors for osteoporosis such as hypogonadism, insufficient dairy intake, sedentary lifestyle, and corticosteroid use were often present, but we did not find modifiable risk factors for scoliosis," the researchers wrote.
Ten (3%) patients had a history of vertebral fracture (a break in the spine). In six cases, the fracture was spontaneous — that is, the bone broke without any noteworthy injury to cause the damage. Fractures in bones other than the spine occurred in 17% of patients and the breaks were spontaneous in 14% of them.
The fracture rates were generally comparable to previous research, though the researchers noted the population in this study skewed somewhat young so it may have underestimated fracture risk in older adults.
Recommendations for bone health
The scientists recommended that people with Prader-Willi be assessed for osteoporosis and scoliosis, with regular screenings for hypogonadism and other hormonal issues that can cause problems with bone health.
They also recommended that Prader-Willi patients get enough calcium and vitamin D, along with regular physical activity, to promote bone health. Meanwhile, unnecessary corticosteroid use, heavy drinking, and cigarettes should be avoided to lower the risk of fractures.
They also noted that many people with Prader-Willi have unusual pain tolerances and difficulty communicating, which requires special care by clinicians.
"In our cohort, several fractures had remained unnoticed for weeks, as the only symptoms had been change of behavior or walking pattern," the researchers wrote. "Therefore, it is important to keep in mind that patients with [Prader-Willi syndrome] may have an atypical presentation of fractures. Thorough physical examination should be performed in case of unexplained behavioral changes or refusal of physical activities to exclude underlying physical problems such as undiagnosed fractures."